Firstly I take no credit for this, the original article can be found here.
When you connect to a network for the first time in Windows, Windows saves the network profile and assigns a name to it.
Connections using Ethernet (wired) use a generic name such as Network 7 usually while wireless networks the SSID of the Wi-Fi network the device connected to.
Some users and administrators may dislike the non-descriptive nature of wired network connections on Windows.
Good news is that it is possible to rename network profile names to make them more descriptive on the operating system.
The following guide was written for Microsoft's Windows 10 operating system but the process should work in previous versions of Windows as well.
Changing the network name on Windows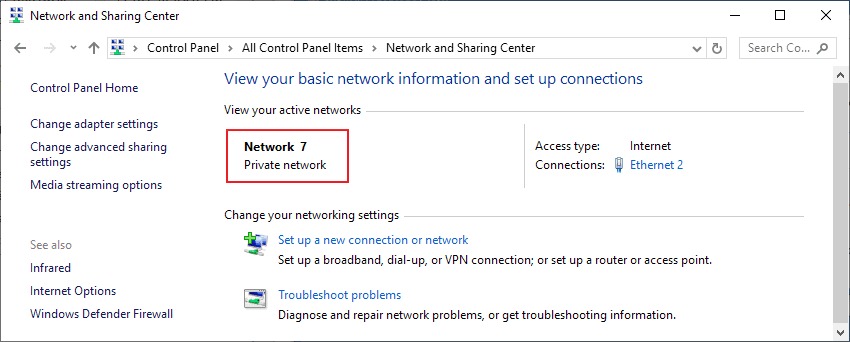 You can check the current name in the Network and Sharing Center on Windows or in the Settings application on Windows 10.
Tap on Windows-I to open the Settings application.
Go to Network & Internet > Ethernet or Wi-Fi depending on the connection type.
The name of the network is displayed at the very top of the page.
To display the name in the Control Panel instead, do this:
Tap on the Windows-key to activate the Start menu.
Type Control Panel and select the result.
Go to Network and Sharing Center
The name is listed under "view your active networks".
Windows administrators and users have two main options to change a network name. The first involves editing the Windows Registry using Local Security Policy. Note that Local Security Policy is only available in professional versions of Windows, e.g. Windows 10 Pro.
Using the Windows Registry
I recommend that you back up the Windows Registry before you make any changes to it. Check out ghacks.net Windows Registry backup guide to find out how to do that.
Open the Start Menu.
Type regedit.exe and select the result to open the Registry Editor.
Confirm the UAC prompt that is displayed.
Go to HKEY_LOCAL_MACHINE\SOFTWARE\Microsoft\Windows NT\CurrentVersion\NetworkList\Profiles
The next step requires some trial and error. Windows lists all network connections with a unique ID and you need to click on each to check the ProfileName variable of it until you find the network name that you want to change.
Double-click on ProfileName once you have found the right entry and type the new name of the network that you want used on the device. The change is only active on the device.
The change takes affect immediately. You can verify that by opening the Settings app or the Network and Sharing Center to verify that the name change was successful.
Repeat the process for any other network name that you want to change.